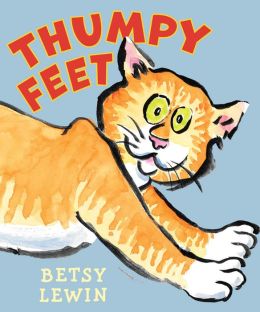 In Andal's House by Gloria Whelan and Amanda Hall – Kumar, a young boy living in present-day India, faces bigotry when he goes to visit Andal, a classmate from a higher caste family.
Planes Fly! By George Ella Lyon and Mick Wiggins – Fly away with this beautifully illustrated rhyming tale about all things planes.
Thumpy Feet by Betsy Lewin – Cat lovers will rejoice as this lovely orange tabby thumps, eats, cleans and yawns his way through the day.
Inside Outside by Lizi Boyd – This wordless book allows readers to peek inside and outside with clever cut outs on every page.
Beware, Beware of the Big Bad Bear by Dianne De Las Casas and Marita Gentry – Mam Mam needs some sody sallyraytus to make buttery biscuits for her family. The only thing in the way is the big bad bear under the bridge.
Give Up, Gecko: A Folktale from Uganda by Margaret Read MacDonald and Deborah Melmon –In this fun folktale, Gecko wants to help stomp a hole to find water, but the other animals make fun of him for being too small.